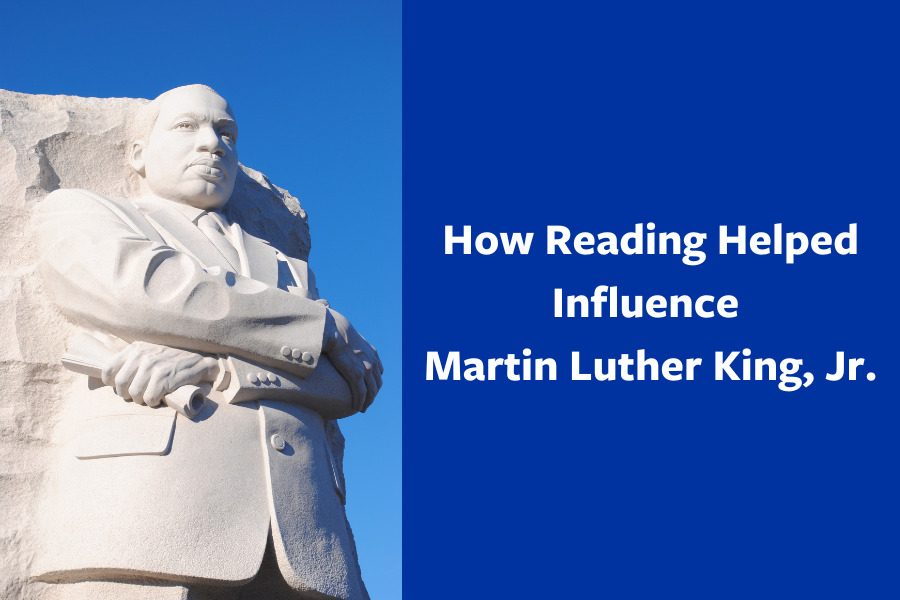 How Reading Helped to Influence Martin Luther King, Jr.
January 13, 2023
Most Americans know and remember Dr. Martin Luther King, Jr. as one of our nation's foremost American Civil Rights leaders, great thinkers, and important shapers of history. However, before Dr. King was any of those things, he was first a reader. His love of reading and passion for knowledge helped to set the tone for many of his ideals, his advocacy, and his bravery.
As a young boy, Martin Luther King, Jr. attended segregated public schools near Atlanta, Georgia. He graduated high school at fifteen and went on to earn a bachelor's degree by 19 from Morehouse College, a second bachelor's degree of divinity from Crozer Theological Seminary, and finally a Ph.D. from Boston University. As a student, King was heavily influenced by the reading that many of his courses required.
From sociology and ministerial training, to his doctoral work in systematic theology, King spent long hours poring over texts that would become etched into his memory and used again and again in his famous speeches and correspondence. It has been noted that King didn't always properly attribute in his own writing, the information he read and included. However, most don't believe that King was plagiarizing, but rather using a savvy oratorical trick of what is known as "voice merging."
Voice merging is usually only possible for those who are widely read, such as Dr. King. He would frequently allude to other quotations, literature, hymnals, and paraphrases from things he had read and merge them into his own authoritative style for maximum impact upon delivery. In effect, Dr. King borrowed from the many voices he was exposed to by reading, and merged their wisdom for his own use.
In fact, in his now immortalized, "I Have a Dream " speech, recited in 1963 in Washington, D.C., King freely borrows from such historical texts as Abraham Lincoln's Emancipation Proclamation. In his "Letter from a Birmingham Jail," Martin Luther King, Jr. quotes from none other than the Greek philosopher, Socrates. A few of his other most loved books include Washington Irving's Rip Van Winkle and Henry David Thoreau's Civil Disobedience.
According to Noteworthy, King, "was also a book lover and collector with a massive home library, and he was heavily influenced by the writings of Gandhi, Eastern philosophy, American transcendentalists, and political revolutionaries. He kept the company of various prominent literary figures of the time. King counted James Baldwin and Langston Hughes as friends, organized protests with the help of Maya Angelou, and had tributes written to his enduring legacy by Alice Walker, Angela Davis, and Gwendolyn Brooks."
This month, as Americans all across the nation celebrate and honor the many contributions and ongoing legacy of Dr. Martin Luther King, Jr. consider setting aside time with your kids to not only discuss his influence, but also how his reading habits helped to shape him into the man he became.
To further illustrate the power of reading and stories in the life of one of America's most prominent activists, it is worth noting, the first twelve years of King's life were spent living with his parents and grandparents. According to the King Institute at Stanford University, Martin Luther King, Jr.'s maternal grandmother, Jennie Celeste Williams is remembered as someone of whom King wrote, "I sometimes think that I was [her] favorite grandchild. I can remember very vividly how she spent many evenings telling us interesting stories."
As 2023 starts off and you and your family, Resolve to Read, consider the power of reading and stories for your children and the legacy they may leave that might begin with books. If you are not sure where to start, check out United Through Reading's App and create your own story time with one of these books on American Civil Rights.